Worlds Together Films
From Tierra del Fuego to Timbuktu, the Worlds Together Series delves into cultures that have yet to sacrifice their originality, beauty and flair for the unexpected. Geared toward a Middle School audience, the series is accompanied by The Portrait Series, which targets High School, College and adults of all ages.
The Worlds Together Films have won the Gold Medal
from NAPPA (National Association of Parenting Publications)
En Espanol: Cuba, Colombia, Ecuador
The Worlds Together Series includes 7 titles designed for a Middle School audience.
"My students were wide-eyed with wonder!"
–Irene Diamond, Elementary School Teacher, Winchester, MA
The Portrait Series
The Portrait Series includes 3 titles for High School and College age viewers.
Preview Films Here
Columbia - A Portrait, a thirty-six minute film by Elmer Hawkes, explores Colombian education, culture and cuisine and takes a careful look at the nation's vast Amazonas region...
ab
Worlds Together Ecuador, a twenty-five minute film by Elmer Hawkes, examines Ecuador's geography, history, culture and cuisine. The film visits Ecuadorian cities like Cuenca, Guayaquil, Banos and Quito. It explores urban life and Indigenous cultures as well as tribal life in Ecuador's rich and remote rain forest...
Worlds Together Cuba is a twenty-five minute film by Elmer Hawkes. Narrated in Spanish, the film examines Cuban music, food, history and culture, paying careful attention to the island's rural underpinnings yet offering a ground level look at cities like Baracoa and the colonial jewel of Havana.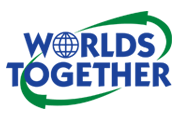 Films can be ordered on-line from Worlds Together, or from this site.