Elmer Hawkes / Songs and Music
The Songs of Elmer Hawkes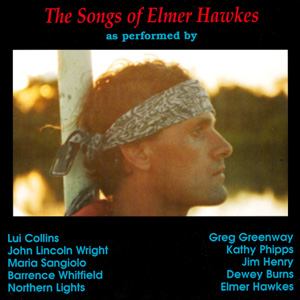 As performed by...
Lui Collins Greg Greenway John Lincoln Wright Kathy Phipps Maria Sangiolo Jim Henry Barrence Whitfield Dewey Burns Northern Lights Elmer Hawkes
Making My Own Way By

Kathy Phipps

If You've Got The Curves, I've Got The Nerves

Jim Henry

Albuquerque's Under Siege

Barrence Whitfield

Nearer To Morning Than Midnight

Greg Greenway & Kathy Phipps

The Ballad of Tin Pan Slim

John Lincoln Wright

When Love was on Your Side

Maria Sangiolo

The Last Official Prisoner of War

Lui Collins

In The Light of Thy Grace

Maria Sangiolo

Loving Her One More Time Before You Go

Barrence Whitfield

Pull Away Slowly From The Old Place

Lui Collins

So Long Mr. Bones

The Entourage

Won't You Please Call Me Back Rupert Murdock

John Lincoln Wright

The Lights Of Carlisle

Elmer Hawkes
The Hunchback of Notre Dame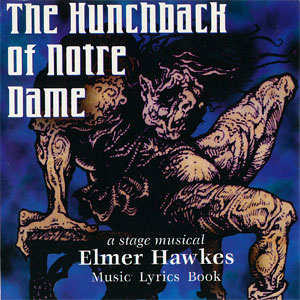 A stage musical
Original cast recording
Better See You In Some Other World Below
Better Days (Intro)
Guilty
For The Holidays
Philosopher Of The Streets
Streets Of Paris
Made Of Stone Like You
Better Days
Requiem/Sanctuary!
One Honest Man
The Silence Of The Dawn
The Sachette's Tale
New for 2021: Elmer's latest album, Havana Farewell, is available now on all the major streaming services including Amazon Music, Apple iTunes, Pandora, TikTok and Spotify.
---
You may also stream or download Havana Farewell free of charge on Google Drive. Check it out now!
Instructions: On Google Drive, double click on Havana Farewell (Video Album).mp4 to stream, right click to download (229.5 Mb).
Havana Farewell
When skies turn to silver and grey and days are slipping away
Along the causeway as lovers line the shore
When songs drift away in the breeze down from the old balconies
Something could be in the air
Chorus
And so you and I had to learn, that past the point of return
Everything slips away and although nights soft and warm as a kiss
Put us under a spell, they only left us with this Havana Farewell
When waves crash with hardly a sound along the sea walls of town
Splashing over the main streets just like rain
When kids from the playgrounds and hills cry out as they will
You might hear them from anywhere
And so you and I had to learn, that past the point of return
Everything slips away and although nights soft and warm as a kiss
Put us under a spell
They only left us with this Havana Farewell
If only you were wild and free and if you truly understood
That I'd have crossed that raging sea had I quite believed you ever would
Come here where the oceans awaits, dreams thrown to the fates
And fishermen toil upon the sea
Where waves crash the sea walls and break and villagers wake
To all possibility